Teacher Feature: Mr. Huckaba, choral director
by Spencer Sherrod
October 19, 2020
Mr.Huckaba may be a new teacher at Central, but he's been down these halls before. He discovered his love for music as a student at Central, graduating with the class of 2015. His interest in teaching comes in part from seeing students worrying about their grades.
---
Read about this year's superlatives here!
---
By Lillian Marcum
November 28, 2018
The holidays can be a procrastinators nightmare. Stress no more and look no further than this list of eco and budget friendly gifts perfect for any giftee! After taking a lot at the positive environmental impact, there is no way to turn these down.
---
By Rylee Griffis
November 27, 2018
Mr. And Miss CHS are perhaps the most prestigious superlative titles. Winners Xavier Washington and Rylie Compton stay actively involved in school athletics and deserve this award because of their time and contribution here at Central.
---
By Lochlyn Treadway
November 27, 2018
Peers voted Meredith Glover the most dependable for the class of 2019 because she is trustworthy and always makes an effort to be there for others.
---
By Emily Leach
November 20, 2018
Thanksgiving. It's turkey and football and family. It's tradition and time to relax. As many celebrate and overindulge in the coming days, it's also important to understand and perhaps take a closer look at this often overlooked holiday.
---
By Lucus Dunn
November 20, 2018
After Halloween, many people automatically switch into Christmas mode. People jump skip over one of the most heartwarming and welcoming holidays in the world, Thanksgiving. Some may just think that it is unnecessary because you make the same meal with turkey and ham, you're surrounded by family, and you watch cheesy holiday specials while wrapped tightly in a big fluffy blanket. To many, Thanksgiving is just an overblown Christmas rehearsal where you don't get presents. To make your Thanksgivings more memorable I have three easy steps that can make your Thanksgiving just as good as Christmas.
---
By Lillian Marcum
November 15, 2018
Being voted the cutest at Central is not only about looks, but about how someone's personality shines through. Alexis Hinton and Erik Richardson are both known for being pleasant individuals, earning them the title of cutest.
---
By Rylee Griffis
November 14, 2018
When the Senior Superlatives were announced, the category best dressed fits these two seniors to a T. Zane Pearson and Lexi Cardwell both won the best dressed category voted by their fellow peers.
---
By Raegan Battershell
November 14, 2018
With over 200 names to choose from in the senior class, the task of choosing one girl and one boy to for each superlative seemed rather daunting. However, there was one pair of names that were obvious fits for kindest: Sarah Cook and Justin Mize.
---
By Lucus Dunn
November 9, 2018
On September 4th, 2006 the world lost one of the greatest voices in conservation and animal studies when Steve Irwin was killed in a diving incident with a stingray. Now twelve years later his son Robert, his daughter Bindi, and his wife Terri are continuing his conservation conversation with their new show Crikey! It's The Irwins on Animal Planet and YouTube.
---
By Lindsey Smith
November 2, 2018
If you hear someone laughing or smiling you can assume that it was caused by your classmates Griffen Smith, Kacie Grogran or Sydney Domermuth. When the senior class had to nominate two candidates for the wittiest, they automatically knew who to choose but were torn for the wittiest girl.
---
By Lochlyn Treadway
November 2, 2018
Due to his hard work and dedication in all of his classes, Aaron Tuk has been selected for the Student of The Month for the sophomore class. He is a member of the soccer team here at Central and is also on the mock trial team.
---
By Bailey Allen
October 31, 2018
Xavier Washington and Reagan Battershell are both seniors active in a lot of activities during and after school, involving the school, also Xavier and Reagan both participate in sports.
---
By Draven Kirk
October 31, 2018
After consulting with to the freshman teachers, Freshman principal Mr.Wise chose Brady Ackerman and Grace Cook as the student of the month for the month of October 2018. They came to a decision that both Brady Ackerman and Grace Cook deserved recognition.
---
By Emile Shaker
October 29, 2018
Halloween, the most creative holiday celebrated in America, comes with a plenty of surprisingly outstanding self-made costumes that leave people in awe for their thoughtfulness and creativity. These ideas are simple yet extremely effective when it comes to impressing your peers.
---
By Keira Parolari
October 24, 2018
Legends, in their own little way, attract practically everyone and the legend of the White Screamer in White Bluff, Tennessee is absolutely no different.
---
By Lochlyn Treadway
October 19, 2018
The class of 2019 voted Kayley Siler as the most athletic girl. She is a captain of the soccer team and a member of the tennis team and basketball team. However, sports are not the only commitments on Kayley's plate. She is also a member of the Latin club, Academic Team, Key Club, National Honor Society, and Bobcat Company.
---
By Draven Kirk
October 18, 2018
Fans and critics are at a crossroads when it comes to playable female characters in Battlefield V.Some argue women should be included in the game, others argue that it is historically inaccurate to include them and they should not be included in the game at all.
---
By Emile Shaker
October 18, 2018
There are many common misconceptions about the Middle East. Most are incorrect and hurtful to the reputation of the region, but the Middle East isn't as bad as the media makes you think.
---
By Lucus Dunn
October 18, 2018
On July 20, 1969, Neil Armstrong became the first man ever to walk on the moon. However, some people doubt that this monumental achievement actually happened. They're wrong.
---
By Pierce Gentry
October 18, 2018
The Moon is a mysterious celestial body that billions of men and women throughout time have wished to see up close. We wonder what it's like up there, what'd it be like to walk around on a hunk of space rock with no atmosphere. They say we went in July of 69′. But did we really?
---
By Bailey Allen
October 17, 2018
Mrs.Buckner, a teacher at Central High School may seem to be a shy person, but is an amazing teacher and an even more amazing person. Look closer to find the life of a not so "average" teacher…
---
By Keira Parolari
October 17, 2018
Think about it. You're a student at a large school and just so happen to walk into the bathroom where one of your bullies are waiting for you, and suddenly within a blink of an eye… you're dead.
---
By Emily Leach
October 11, 2018
The Baker Creek Preserve is a beautiful scenic getaway, perfect for outdoor recreation as autumn grows closer. A wide range of activities, mixed with the beautiful outdoor atmosphere, makes Baker Creek perfect for all ages.
---
By Rylie Compton
October 6, 2018
Everybody wants to be successful in life, but when the senior class was asked to select two classmates who were most likely to do so, the answer seemed obvious. Keagan Cross and Cian Bell were both given this title after being voted by their peers.
---
By Reagan Battershell
October 6, 2018
Believe it or not, autumn is here and the spooky season is upon us. As most people tune into Free Form's 31 Nights of Halloween, it's run of the mill, never-ending cycles of Hocus Pocus and The Adams Familyleave more to be desired.
---
By Haley Powers
October 5, 2018
Women are objects. Nothing more than a vessel to bear a man's child. This is what the book The Handmaid's Tale portrays could happen to America if the citizens continue to act freely.
---
By Lucas Dunn
September 12, 2018
The smell of funnel cakes and chicken wings fills the air as the sound of creaking metal surrounds us. This place of childhood wonder and fatty foods is known as the Tennessee Valley Fair.
---
By Lindsey Smith
September 7, 2018
What is new or the same about Central High School's student section? Seniors Kacie Grogan, Rylee Griffis and Bryson Boles share classic chants and memories.
---
By Gregory Orsulak
September 7, 2018
Quiet and intellectual, Will Sullivan may give off the impression of someone easy to overlook. Upon further examination, however, it's strikingly clear that this Central student is anything but ordinary.
---
By Keira Parolari
September 7, 2018
The end of the grading period could either be a blessing or a nightmare for students. Parents can be intimidating when it comes to bad grades, so what is the best way to approach them?
---
By Rylee Griffis
September 4, 2018
---
By Haley Powers
September 3, 2018
School superlatives typically fade with the memories of high school. Who knows where Central's 2018 "Most Likely to Succeed" student will end up. However, in Benjamin Collins's case, his classmates votes paved the way to his future.
---
By: Lucas Dunn
August 29, 2018
Now is the perfect time to try one of the most relaxing and discovery promoting pastimes available. Hiking can be fun for everyone, but it helps to know how to be safe and where to go to make your experience fun.
---
By: Draven Kirk
August 24, 2018
For those tired of the hot summer days and ready for the spookiness of fall, check out the CreepyCon Halloween horror convention this weekend.
---

By Lillian Marcum
May 8, 2018
House Mountain is one of Tennessee's best hiking trails. Less than an hour drive, located in Corryton, there is no excuse to not make the trip.
---

By Lillian Marcum
April 20, 2018
Based on a true story,

The Miracle Season

is an hour and forty minutes of pure emotion. Although reviews are underwhelming, the message continuously pushed through: "live like Line, love like Ellyn" is anything but disappointing.
---
By Jordan Hambrick
April 17, 2018
Kendrick Lamar, a multi Grammy winning hip-hop artist, has just received one of the biggest achievements in the history of music. On April 16, 2018, Lamar received the Pulitzer Prize for music. Kendrick Lamar is the first hip hop artist to ever receive the award for his album "DAMN," which went platinum.
---
By Tyler Bloomfield
April 17, 2018
I hear the term "Fortnite" at least 10 times a day. If it wasn't for my keen superhuman mind, I would think everyone was talking about something going on in 2 weeks. However, I know Fortnite is actually a video game sweeping the nation. Even celebrities such as Drake, Travis Scott, and JuJu Smith-Schuster join in on the craze. But why does everyone seem to enjoy such a basic game?
---
By Jordan Hambrick
April 10, 2018
In our generation, hip hop is one of the most popular genres of music. Rap is my personal favorite type of music. I like to listen to guys like J Cole, Kendrick Lamar, and even current rappers like Lil Uzi Vert. While some people don't like the music, some song lyrics can really relate to us as people.
---
By Lillian Marcum

April 4, 2018
East Tennessee holds no shortage of beautiful places, but there's nothing quite like Max Patch in spring. With warm weather right around the corner, everyone has grown antsy to get outside.
---
By Brooke Flatford



March 23, 2018
Published in 2017, The Hate U Give was set as New York Times's number one best selling young adult book of the year. Given the book's success, this story of a young, black woman will be made into a movie, premiering near the end of 2018.
---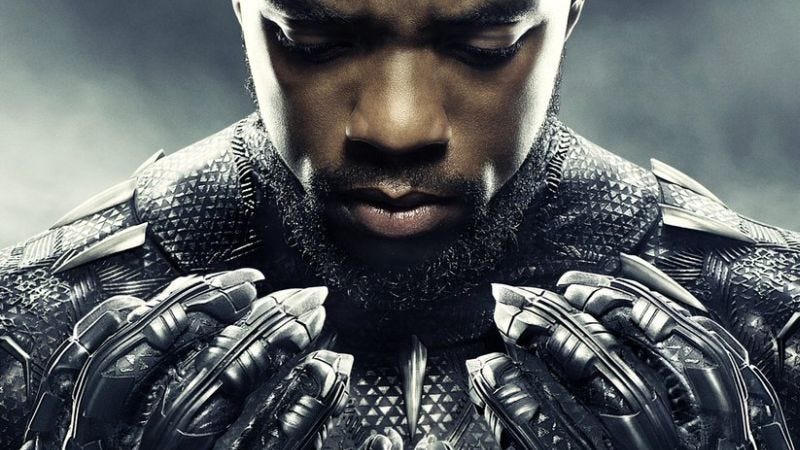 By Marcus Hixenbaugh
March 9, 2018
The Black Panther: The movie taking the nation by storm. Released only on February 16, the Black Panther has already made 786.4 million and counting. This is the must see movie of the year with a 97% rating from Rotten Tomatoes.
---

By Tyler Bloomfield
February 14, 2018
Stand up comedy is a very acquired taste. Me personally, I do not find many types of stand up comedy funny, but I decided to branch out and try many different stand up comedians such as: Donald Glover, Bo Burnham, Dana Carvey, and a few more. Here is my thoughts on such comedians.
---